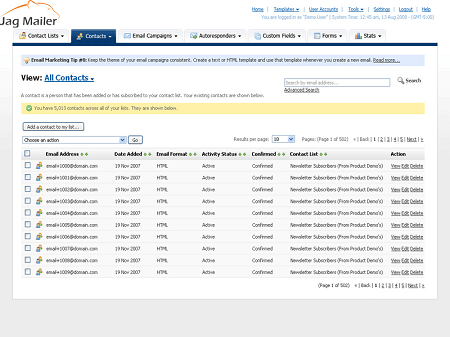 Adding or Editing a Contact
Take the following steps to add a contact to one of your contact lists:
Click Contacts in the navigation bar, then click Add a contact.
Select the Contact list to which you want to add the contact. Click Next.

Enter the contact's Email address.
Select an option from the Email formatlist. If you want the contact to receive HTML emails, select HTML. If you want the contact to receive plain text emails, select Text.
Select a Confirmation status. If you want to send a confirmation email to the contact later, select Unconfirmed. Otherwise, select Confirmed.

Enter the contact's details:
If the contact list to which you are adding this contact has additional custom fields, enter the required information in the Custom field details section of this screen.
Note: If there are date‐based custom fields, you can add a follow‐up reminder to your
Google Calendar. See Creating Google Calendar Follow‐Up Reminders