It is not about international prestige. It is not about the hottest creative wheel. It is not about throwing many pounds at branding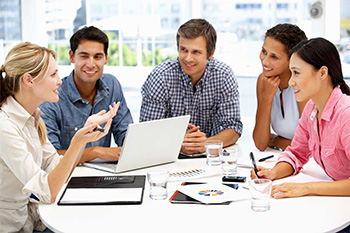 It is about results… the results you need. Unlike any agency on the planet, EgyProTech is built for results.
Every company promises results. We at EgyProTech created our unique technique to generate results.
Our new technique is the power of (IMC) Integrated marketing communications it became a popular buzz-word last decade when brand managers wanted consistency.
IMC it is not a buzz-term to encourage density. It is a whole different concept of marketing.
Nowadays in the customer focused world, the world is rapidly changing. Nowadays the Internet has made a significant difference in buyer-seller communication it became thousands of times faster and much real.
At EgyProTech:
we've developed the old agency standards.
We invented the client-centric self-managed teams.
Each team consists of experts from each department such as designing, public relations, advertising, direct response, strategic planning and online marketing.
They all work together in one team to setup the most perfect plans and strategies to share information and ideas. All works together like a cogwheel focusing on delivering excellent results to the client.
Integration requires a high level of interpersonal and cross-functional communication within the organization. Also requires a high qualified team that wants to work together. At EgyProTech, we have experienced client-centric teams which produce superior results efficiently.
At EgyProTech, we believe if a variety of tools are being used to influence the consumer at different contact points, they will all be applied together for the sake of a harmonic communication to deliver the message of your product's core advantages, features and your brand image.
Our distinguishing feature is the group's lack of functional departments for each discipline. Instead, a list of specialists and coaches bring particular expertise to the various teams which suites each project's needs. According to each case, an initial meeting is being held by the experts to ensure that their goals are very well integrated into the project plan before proceeding on the creative process. This superior
integration of the IMC ensures in the long run that every marketing message is aligned, coordinated, and – as a result – more efficient.
We have both the competence and ability to develop and integrate the best marketing communications for our client's best interest.